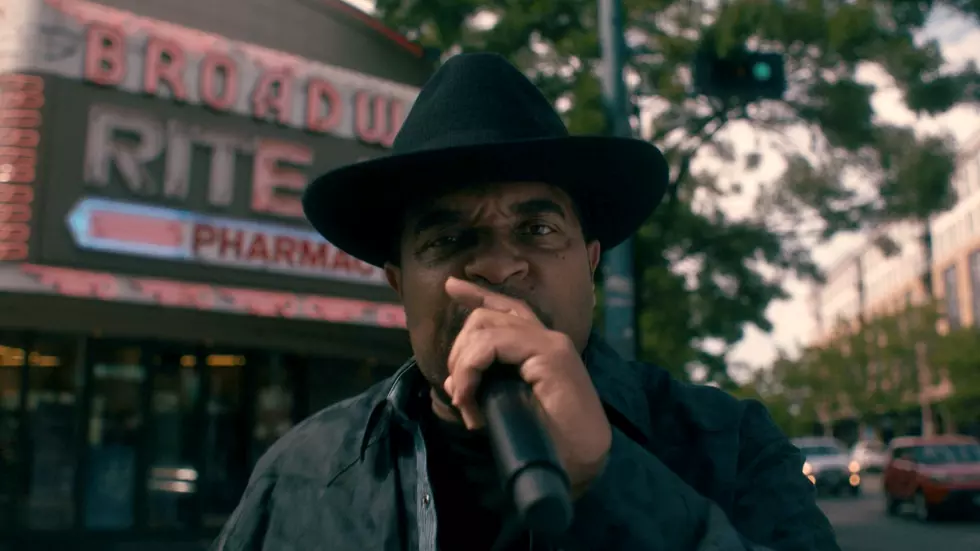 Did You Know These Cool Things About Seattle Native, Sir Mix-A-Lot?
Getty Images for All In WA
We Love Sir Mix-A-Lot…and we cannot lie
You might think the song, "Baby Got Back", is all there is to Sir Mix-A-Lot, but he continues to reveal time and time again that there is so much more to him beneath the surface. He is versatile and innovative. Forward-thinking, and futuristic. Creative and endearing. Yes, he is bubbly, entertaining, and funny, yet once you peel back the outer layers, you will discover that he is also a deeply thoughtful and introspective human being.
We are going to find out why he has the new nickname, "Chex Mix-A-Lot" plus we'll discover 10 cool things you did not know about Sir Mix-A-Lot. It's a catchy twist on the name for the very popular Seattle native, actor, producer, and 80s rap sensation.
We'll also get a peek at his new Chex Mix bagel chip commercial.
OVER 4 DECADES OF WINNING
Since 1981, Anthony Ray has been keeping fans bopping and rapping along to his music under the stage name, Sir Mix-A-Lot. Two of his biggest hits to date are of course the popular throwback jams, "Baby Got Back" and "Posse On Broadway." (My personal fave is "Buttermilk Biscuits,")
A big takeaway from this interview I had with him is that the most important things in life to Sir Mix-A-Lot are "family, friends, and home."
WHAT HAS SIR MIX-A-LOT BEEN UP TO THIS PAST YEAR?
2022 was a fun year for Sir Mix-A-Lot. He was honored by the mayor of Seattle with November 3rd being declared, "Sir Mix-A-Lot Day." He also released a Funko Pop of himself, available on Amazon, Hot Topic, and GameStop. I thought this was so cool, I bought one for my little brother for his birthday!
10 COOL THINGS YOU PROBABLY DID NOT KNOW ABOUT SIR MIX-A-LOT
1 . Baby Got Back was BANNED
The song and the video were at first banned by MTV (during certain parts of the day), but became the #1 most requested song and video on MTV and radio.
2 . Sir Mix-A-Lot's fave song that he ever recorded
His fave song is "Y'all Don't Know" from the Daddy's Home album. He says it talks about the pitfalls of fame, including his run-in with personal bankruptcy. (NOTE: Video is NSFW.)
3 . Fave Places to Eat in Washington State
If you were to be treated out to dinner by Sir Mix-A-Lot in his home state of Washington, here are 2 places he says he would love to take you:
1 . Daniel's waterfront steakhouse located on Lake Union in Seattle.
809 Fairview Pl N
Seattle, WA
2 . Barking Frog's upscale bistro for breakfast; beignets for lunch.
14580 NE 145th St
Woodinville, WA
4 . How Sir Mix-A-Lot feels about money:
He says that "sometimes having too much money is not a good thing" and that "you must learn how to manage your money, no matter how much you make." That is something he wishes he had known about before his rise to fame.
5 . His Guilty Pleasure Artists:
Would it shock you to learn that Sir Mix-A-Lot loves Gary Newman for the usage of double entendre in the song lyrics? He says he's also is a big fan of Jay-Z. The guilty pleasure song that surprised me the most that Sir Mix-A-Lot says he loves is "Like A Rock" by Bob Seger! He also says that people might be surprised to know that he's actually a big fan of country rock music.
6 . Would Sir Mix-A-Lot ever consider doing a reality TV show?
Sir Mix-A-Lot feels that reality TV is something he would never consider doing. "I don't like reality TV," he says. Nuff said.
7 . The best advice he was ever given:
Sir Mix-A-Lot says that record producer Rick Rubin, the co-founder of Def Jam Recordings, once gave him advice to stop intentionally trying to recreate his song, "Swap Meet Louie." "Be true to yourself" is advice that changed the trajectory of Sir Mix-A-Lot's life. Once he followed this advice, Sir Mix-A-Lot began to find greater success with his music. (NOTE: Video is NSFW.)
8 . He is deeply committed to charity work.
In 2021, Sir Mix-A-Lot created an NFT as a fundraiser for a colon cancer charity organization. His digital art consisted of designer "Bit Butts". He participated in the "Keep Music Alive" fundraiser during the pandemic so that local Washington state artists and music venues could stay afloat during the coronavirus shut down.
9 . How did the COVID pandemic lockdown change his life?
Sir Mix-A-Lot began pivoting his musical talents during the pandemic shutdown says he taught himself how to create electronic equipment. He now had time to discover a passion for building RF amplifiers and other electronics, which he in turn, sold to other recording studio engineers across the country. He even updated his own recording studio to the Dolby Atmos studio setup.
10 . How he feels about covers of his song, "Baby Got Back":
Sir Mix-A-Lot is very protective of his song, Baby Got Back. He doesn't let just anybody sample it or make a cover of it. He owns the masters and wrote his own lyrics, which is a real victory for music artists in the music industry.
There are two (2) covers of his song that are his favorites:
NICKI MINAJ, ANACONDA
Sir Mix-A-Lot says that his favorite (sampled) version of his song is Nicki Minaj's Anaconda. He says that Nicki is a "beast in the studio!" (NSFW)
JOE NICHOLS, BABY GOT BACK
He also loves country star Joe Nichols' version as well. We loved Sir Mix-A-Lot's cameo in the beginning of this video.
11 . Bonus question from a Facebook fan named Andre: Why did he say he likes big butts but the music video showed women who were "long-backed?"
Sir Mix-A-Lot says that he wanted models who were naturally amply blessed with big butts but at the time of filming, the record label turned down all but 2 of his dancer requests. They replaced his choices with women that they had wanted to be in the music video. The record label took control of the direction of the video and the dance moves the video vixens they chose did in it. The takeover was disappointing to Sir Mix-A-Lot because he says his song was about mocking what the media considered beautiful in women. He says if you look deeper into the lyrics, his song "is about culture, not butts." He wanted Baby Got Back to "poke the American standard in the eye!" He wanted to place women with big butts "on a pedestal."
We can't wait to see what Sir Mix-A-Lot has in store for 2023. He's already started the year off on a big note with his new commercial for Chex Mix bagel chips. For the commercial, he teamed up with TikTok star, Chrissy Allen, better known as csapunch. Chrissy has over 2 million followers and has been entertaining fans on social media with her hilarious quick vids that poke fun at being a Millenial growing up on the cusp of Gen X.
If you haven't already seen it, here is the full Chex Mix commercial featuring Sir Mix-A-Lot and the hilarious and beloved TikTok star, csapunch.
MORE TO READ:
25 True Crime Locations: What Do They Look Like Today?
Below, find out where 25 of the most infamous crimes in history took place — and what the locations are used for today. (If they've been left standing.)
LOOK: Food history from the year you were born
From product innovations to major recalls,
Stacker
researched what happened in food history every year since 1921, according to news and government sources.
More From NewsRadio 560 KPQ