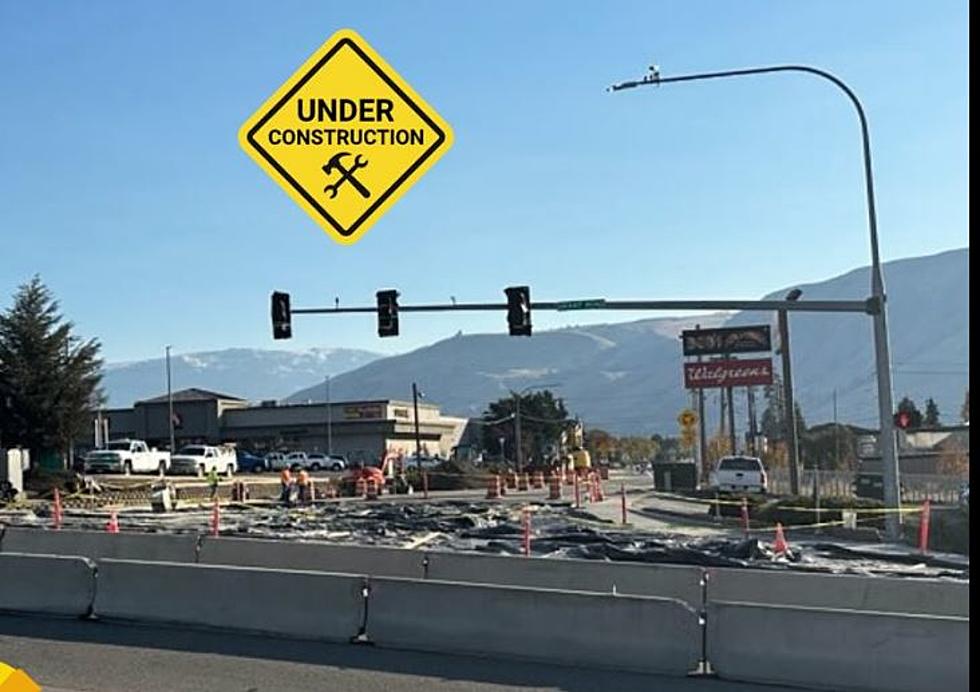 Big East Wenatchee Intersection Project To Be Completed By Monday
Grant Rd and Eastmont Ave Intersection project - from East Wenatchee Police 10-31-23
The Grant Road and Eastmont Avenue intersection project in East Wenatchee is now in its final phase. 
Traffic is currently routed onto the newly completed concrete pavement on the intersection's south side while crews pour concrete on its north side. 
East Wenatchee Public Works Manager Garren Melton says the project will be completed within a three-week window, which will minimize disruptions. 
"Instead of taking three months to try to do a bunch of traffic control and work, like a corner of the intersection at a time, I would rather see us get in, be as efficient as we possibly can and try to minimize the impact on traffic," said Melton. 
The Grant Road and Eastmont Avenue intersection project is on track to be completed and fully reopened by Monday. 
Still, traffic flow has been restricted in the area as it's been reduced to one lane in each direction on Grant Road with no access to Eastmont Avenue or Highline Drive at the intersection. 
Melton says area businesses are not complaining too much about the inconvenience. 
"Everyone acknowledged that the closure would be an impact, but everyone was so happy to be getting that intersection fixed, that it had gotten so bad in the last few years, it was kind of a necessary evil," Melton said. 
The concrete intersection will provide a longer lasting solution for the roadway, which has gotten bumpy from heavy truck use. 
The concrete will have a lifespan of about 50 years vs. 10 years for asphalt. 
The intersection upgrade is Phase One of a bigger Grant Road improvement project that'll cost $6,084,127 with the city responsible for a small portion, $400,750. Federal and state money is paying for the balance of the cost. 
Phase Two of the project includes an asphalt overlay of Grant Road from N Georgia Ave to N Kentucky Ave while Phase Three is an asphalt overlay between Valley Mall Parkway to N Georgia Ave 
Phase Four includes Grant Road Stormwater Improvements. 
More From NewsRadio 560 KPQ