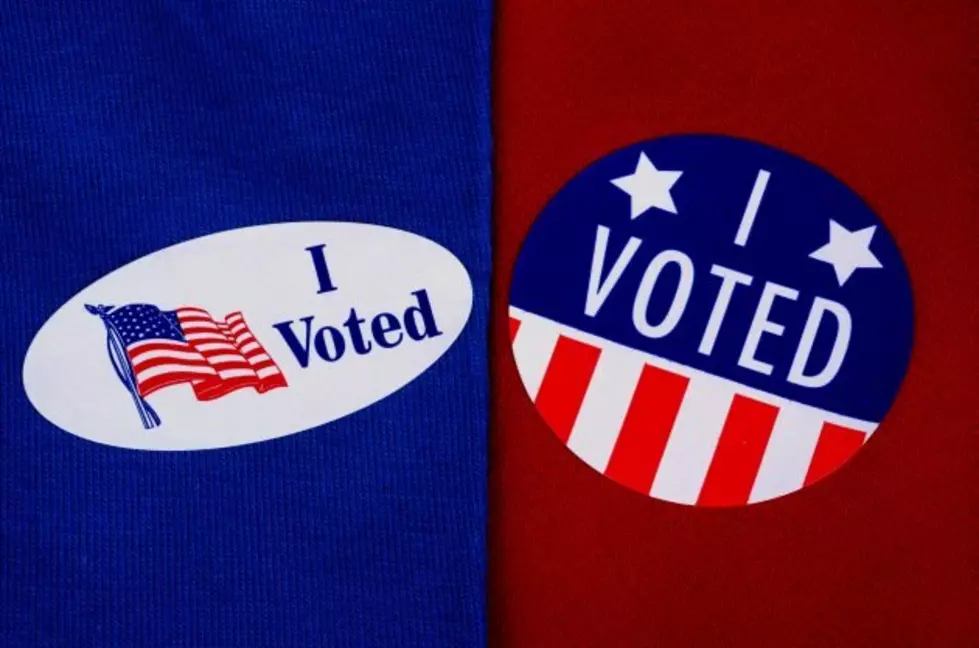 Primary Election Ballots Due Tuesday, August 1st
File Photo
Ballots are light on races in both Chelan and Douglas County
Election Day is Tuesday, August 1st and voters in Chelan and Douglas County will  narrow the field in a few races for the General Election in November.  Many of the offices up for election in the two county area this fall are advancing straight to Nov. 7th with nothing to be decided in Washington's state's top-two primary system.
Voters can still register to vote or update their registration in-person at any elections office no later than 8:00 p.m on Election Day.  The Chelan County Elections Office is located at 350 Orondo Ave Level 3, Wenatchee.  The Douglas County Elections Office is at the Douglas County Courthouse,  213 S. Rainier St in Waterville.
CHELAN COUNTY PRIMARY RACES
In Chelan County, three races for Mayor will be set in Wenatchee, Leavenworth and Chelan.
Wenatchee Mayor Frank Kuntz is leaving office at the end of the year and the open seat has attracted current Council member Mike Poirier, former mayoral candidate Bryan Campbell and James McLaughlin. (Correction-an earlier post incorrectly named the candidate as John McLaughlin) 
Leavenworth Mayor Carl Florea is challenged by former city administrator Rich Brinkman and Becki Subido
Chelan's incumbent Bob Goedde has also drawn a challenge for Mayor by two current members of the council, Erin McArdle and John Olson.  Stan Morse is making another bid for Chelan Mayor.
There are two races for Wenatchee School Board appearing on the ballot depending on which district a voter resides in.  Wenatchee School District is running elections for for every seat on the board under a new District voting system.
The District #5 At-Large Director race features incumbent Martin Barron and challengers Tricia Cleek and John LaCasse.
The race for School Board Director in District #4 will have three candidates appearing on the ballot; Miranda Skalisky, Kendra Martin and Joe Cortez.  Cortez dropped out of the race for personal reasons and Chelan County Auditor Skip Moore said Cortez withdrew too late to have his name removed from the primary ballot.
Voters in Manson are choosing two candidates for the General election for the Manson School Board District #2 seat.  Aurora Flores is challenged by Tanaya West and Kourtney Alanis.
Chelan County voters vote in the primary for candidates for Assessor to fulfill the remainder of a 3 year term of former Assessor Deanna Walter.  Wes Cornelius was appointed to the role, Mark C. Miller is also running.  Both candidates will advance to the General election regardless of the Primary results.  Their names appear on the ballot because the office is a partisan race.  Both candidates listed Republican as their party preference
The Chelan County Fire District #6 Commission race has attracted four candidates,  Rex King, Kip Higdon, Matthew Rise and Phillip Guthrie.
The race for Lake Chelan's Public Hospital District No.2 Commission 1 seat has Debra Edinger and Len England challenging incumbent Mary Signorelli.
Ballots are due with the August 1st postmark or at the Auditor's office by 8pm, Tuesday August, 1st
Ballot drop box locations for the August 1, 2023 Primary Election:
Chelan County Courthouse
350 Orondo Ave.
Wenatchee, WA 98801
Indoor boxes: M- F 9am - 5pm
Licensing Office - Level 2
Or Elections Office - Level 3
Wenatchee Public Library
310 Douglas St.
Wenatchee, WA 98801
Outdoor Box: 24 Hours a day
Drive-thru access.
Cashmere City Hall
101 Woodring St.
Cashmere, WA 98815
Outdoor Box: 24 Hours a day
Facing Mission Ave
Walk up
Chelan City Hall
135 E. Johnson Ave.
Chelan, WA 98816
Outdoor Box: 24 Hours a day
Drive-thru access
Entiat City Hall
14070 Kinzel St.
Entiat, WA 98822
Outdoor Box: 24 Hours a day
Drive-thru access
Leavenworth City Hall
700 Highway 2
Leavenworth, WA 98826
Outdoor Box: 24 Hours a day
Drive-thru access
Manson Public Library
80 Wapato Way
Manson, WA 98831
Outdoor Box: 24 Hours a day
Walk up access.
DOUGLAS COUNTY PRIMARY RACES
A shorter ballot is before voters in Douglas County with most of the offices up for election advancing straight to November with only two candidates.
The Bridgeport School Board District 3 At-Large race candidates are Matt West, Kate McPherson, and Jean Hardie
Douglas County residents in the Ephrata School District are voting in the Director #2 race for Mike Fleurkens, Shawn Cardwell or Jordan Hansen
The Okanogan/Douglas Public Hospital District is requesting voters approve a one year tax levy to raise $1.145M to fund health care services at Three Rivers Hospital in Brewster.
Ballots are due wit the August 1st postmark or at the Auditor's office by 8pm.
The following drop boxes are open through  August 1st at 8pm
Bridgeport City Hall 1206 Columbia Ave. in Bridgeport
Public Service Building  140 19th St. NW in East Wenatchee
Douglas County Courthouse 213 S. Rainier St in Waterville
More From NewsRadio 560 KPQ