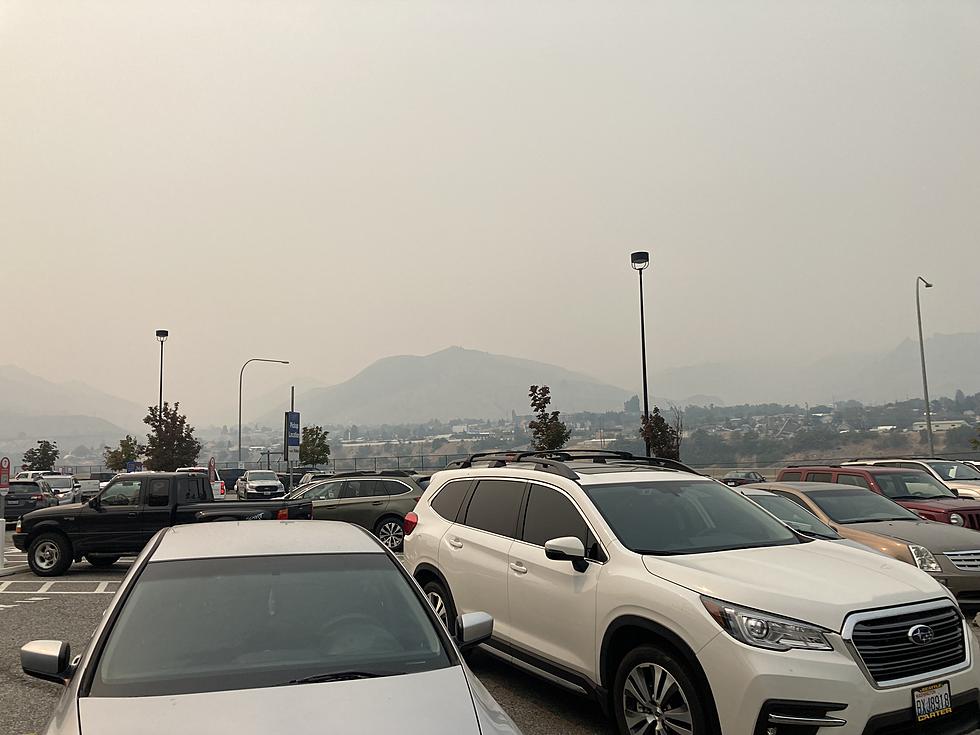 Smoke From Spokane Fires To Clear Out Monday, Except in Wenatchee
Image of smoke in the Wenatchee area on 8-19-23 from Fred Meyer parking lot
Air quality in all areas east of the Cascades in Washington is unhealthy to hazardous. 
There are a number of fires in Eastern and North Central Washington that are causing the smoke, with the Gray and Oregon Road fires near Spokane being the major drivers. 
National Weather Service Meteorologist Charlotte Dewey says there'll be a big change in the air starting today. 
"So, we're looking for a wind shift out of the east-southeast, which we are already starting to see that taking place early this morning," said Dewey. "And that's going to start to clear out and improve some of that bad air quality from east to west." 
However, Dewey says some areas locally will take longer to clear out. 
"Parts of the Cascades, including the Wenatchee Valley up through the Methow Valley may not see as much improvement as eastern Washington." 
Those portions of Chelan and Okanogan counties will start to see improvement in air quality starting Tuesday, although some smoke could linger later in the week. 
There are now two deaths reported from the fires near Spokane. 
Activity inside the Gray Fire has moderated and crews have worked to create a containment line and clear out fuels to secure lines around homes.    
The Gray Fire is burning just a few miles from the town of Medical Lake, southwest of Spokane, and all five-thousand residents have been ordered to evacuate.   
Strong winds on Friday caused the fire to grow over three-thousand acres in a few hours . 
Local utility Avista is working to repair downed lines and power poles to restore power to the area.  
Level 3 - Go Now - evacuation notices are in place on both sides of I-90.  
The highway remains closed along a 13-mile stretch between Tyler and Four Lakes.  
The Gray Fire is burning more than 10,000 acres less than 20 miles southwest of Spokane  
The Oregon Road Fire is also burning more than 10,000 acres near the Spokane and Pend Oreille County line.  
There are also extensive level 3 - Go Now - evacuations near the Oregon Road Fire. 
More From NewsRadio 560 KPQ