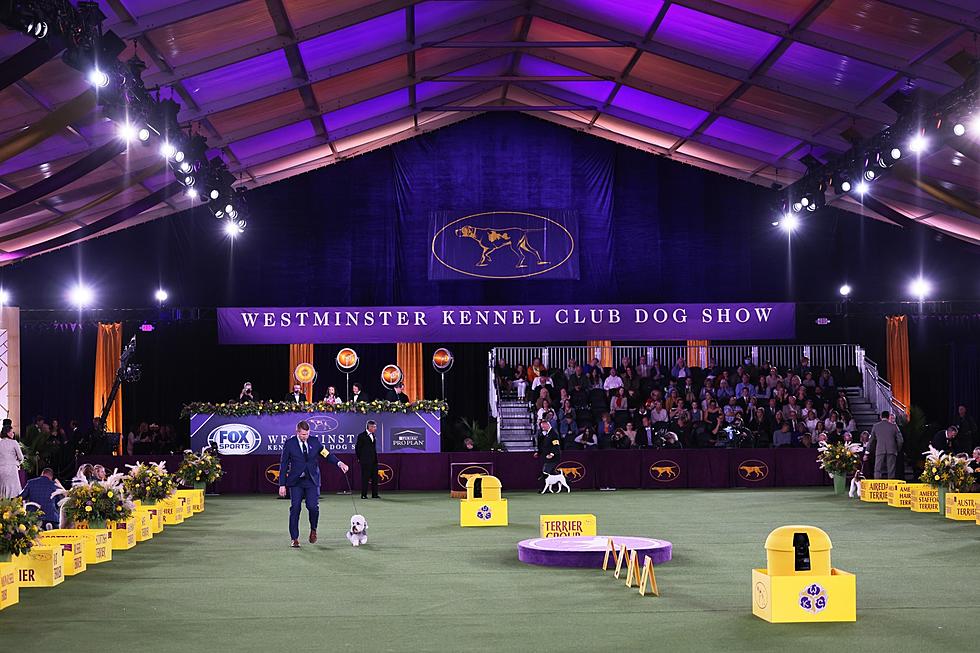 Washington's Top 10 Dog Breeds: Is Your Pooch On The List
Getty Images
There are an estimated 77 million dogs in the US, according to the American Medical Veterinary Association. The Labrador Retriever is America's favorite, topping the American Kennel Club's list of the most popular breed for an amazing 30 consecutive years!
But what are the most popular dog breeds for owners in Washington state?  These rankings are based on AKC registrations (and not internet searches) for the hottest breeds or what's trending and based on what people might be curious about.
So check out the Top 10 Dog Breeds based on AKC registrations in Washington and  see if your pet made the the Top 10 and what makes them so popular;
1. Labrador Retriever
Whether it's a black, yellow or chocolate lab, no wonder they are number one on the list in Washington State as well as the U.S.  Labs are wonderful with kids and other pets and love to play fetch and were bred for the water.  They are ideal family dogs, hunting partner and devoted service dogs and a natural as the top dog choice in Washington state.
2. German Shepherd
German Shepherds are considered among the smartest breeds and first in obedience trials.  They are excellent family dogs and are very protective so that is why they are excellent guard dogs.
3. Golden Retriever
Among the most loyal breeds to their families, they are vey social and enjoy spending time with their human pack. The retrieving trait is instinctual and they excel at it, but they love interaction and learning new tricks or just loving on their families.
4. French Bulldog
"Frenchies" come in a wide range of colors and patterns and are perfect for city or apartment living because they do not require much exercise or need much space. You see many Frenchies in public because their humans have learned they can have issues with separation anxiety if they're left alone at home.
5. Poodle
Poodles are considered among the smartest breeds in the world second only to Border Collies.  They are bred to retrieve in the water but also make good therapy and service animals in addition to wonderful family pets.  We have a Labradoodle, which is a Lab Retriever Poodle cross, but Bailey does NOT enjoy getting wet, oddly enough but will play fetch all day so, go figure!  Poodles have non-shedding hair rather than fur so they can be a great choice for those with allergies.
6. Rottweiler
Rottweiler owners know what lovable pets they are while strangers may find them intimidating.  Early socialization is important to set boundaries and their behavior when meeting new people.  Rottweilers surprisingly enjoy playing in water and jogging, considering what a large breed they are.
7. Bulldog
Bulldogs are calm and very loyal companions but have a few considerations to factor into whether they are a good fit for your family.  They need training before they should be trusted around children or other pets.  Bulldogs don't need a lot of exercise but they have short muzzles and humid or hot weather can present breathing difficulties so Bulldog owners tend to keep them indoors during the heat.
8. Pembroke Welsh Corgi
Corgis are big dogs in a small body.  We had a Corgi and can attest that they are clowns!  Mr. Big was a great family pet and loved herding our kids in the back yard as they are bred to do with cows, thus the short legs!  And if you have to leave them alone, they are not prone to separation anxiety like other small breeds.
9. Boxer
Boxers are patient with any small children in the family and very protective.  They are droolers and loud snorers but that makes them more lovable!  Be prepared to give them lots of exercise because they are an energetic breed.
10. Australian Shepherd
Despite their name, the breed originated in California.  You will want to have a lot of outdoor space to keep them happy.  Like Border Collies, they are very smart and have lots of energy and need plenty of activity to keep them content.
LOOK: Longest-living dog breeds
Gallery Credit: Sophia June
LOOK: The most popular dog names of 2022 in every state
Hey dog lovers, check out this awesome list of the most popular dog names in 2022 for every state, and get ready for some serious cuteness overload.
Gallery Credit: Amber Spencer-Knowles
More From NewsRadio 560 KPQ