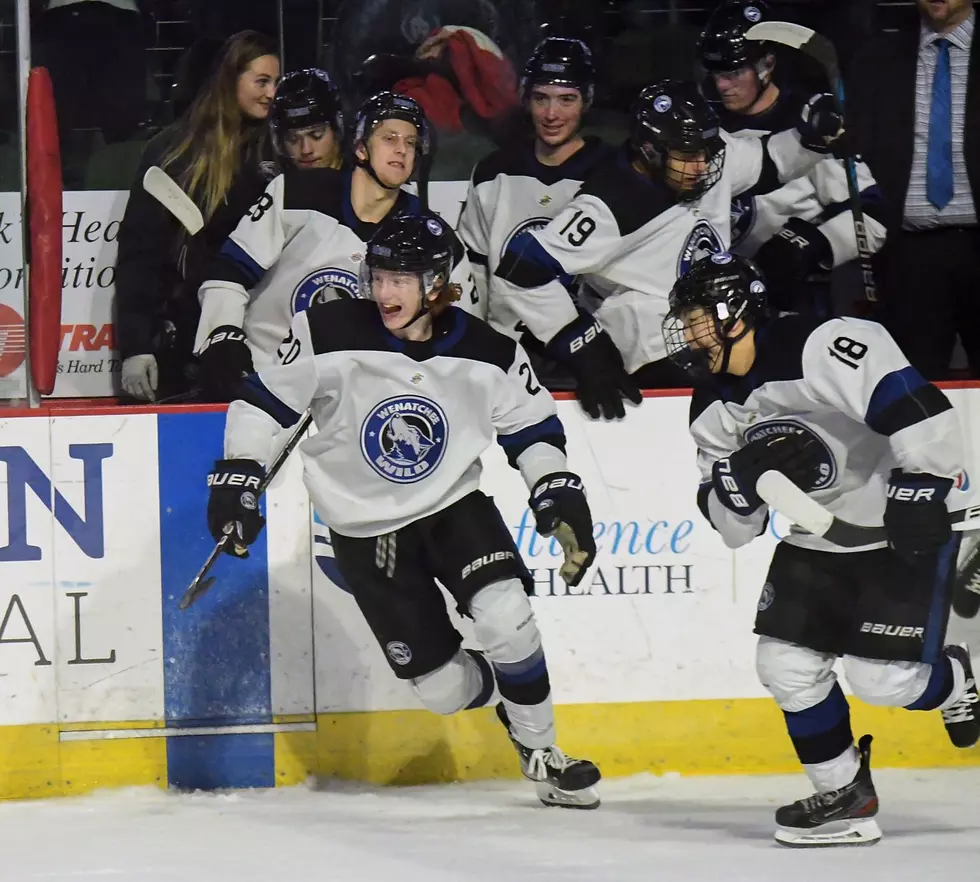 WENATCHEE WILD STORIES – #20 Jackson Ebbott
Wenatchee Wild
The Wenatchee Wild is a Junior A hockey team who play in the British Columbia Hockey League.
The BCHL is a great league to earn a full ride scholarship at Universities across North America. 
The Wild play in the 4,300 seat Town Toyota Center. "The Wolves Den" has provided loud support during their play in the NAHL (North American Hockey League) from 2008 - 2015 and recently in the BCHL (from 2015 to present). 
The Wenatchee Wild are led by Head Coach Chris Clark.
Our eighth edition of this season's Wenatchee Wild Stories - Features forward #20 Jackson Ebbott.
---
Jackson Ebbot is an 18 year old left winger - playing his first season in Wenatchee. Jackson came to the team after splitting last year with the Buffalo Regals U18 program and the Salsbury Scarlet Knights Prep school in Connecticut. Wild Head Coach Chris Clark: "Jackson comes to us with the reputation of being a hardworking, competitive forward who is just scratching the surface of his offensive game. We will work with him to continue to develop his offense, while rounding out his complete game in order to help him gain NCAA interest." His dad, Chris Ebbott, programs the iconic LA radio station: K-Earth 101.1
Connor: Jackson, Welcome to Wenatchee and thanks for taking time to chat with us. Where do your parents live? Where is home base?
Jackson Ebbott: Sherman Oaks, California – in the L.A. area.
C: What is your favorite NHL team?
JE: The L.A. Kings.
C: Who is your favorite NHL player and why?
JE: Connor McDavid (Center forward/Captain of the Edmonton Oilers) He's the best by so much. He's so much better than everybody else – he's so fun to watch and so skilled..
C: What is your earliest memory of hockey?
CE: I don't know if it was my first game, but I'd say playing house league for a team called the Tigers.
C: Who inspired you to want to play hockey at a higher level?
CE: Probably my dad – he didn't even play hockey, but he's such a competitive athlete, so I became a competitive person and want to be the best at everything I do.
C: What do you like about Wenatchee?
CE: I love my billets, and I love the team we have here. I think we have a very special group of guys in the locker room and we have a ton of fun.
C: What are your favorite places to eat in Wenatchee and what do you order?
CE: The San Francisco Style Sourdough Eatery sandwich shop (in East Wenatchee) – my favorite thing to get there is the garlic pesto sandwich and sweet onion chips.
C: What is your favorite opposing arena to play at and why?
CE: I think Salmon Arm was the most fun this year – they're really rowdy and really loud and energetic, so it was fun to play there, and they're a good team, so they're fun to play against.
C: What is something Coach Clarky has taught you since you joined the Wenatchee Wild?
Jackson Ebbott: He's definitely helped me mature my game a lot, play a professional-style game and make a play when it's there.
Connor: Thanks for taking time with us! You can follow Wenatchee Wild left winger, Jackson Ebbott on Twitter: @jackson_ebbott
---
The Wild start the month of February on the road - then come back come back to the Wolves Den: Feb 10th & 11th
---
Friday night February 3rd
Wenatchee Wild @ Merritt
7pm puck drop
Nicola Valley Memorial Arena - Merritt, BC
Radio: Newsradio 560 KPQ (and on the free KPQ app for ANY device)
Streaming online: HOCKEYTV 
---
Saturday night February 4th
Wenatchee Wild @ Salmon Arm
6pm puck drop
Shaw Centre - Salmon Arm, BC
Radio: Newsradio 560 KPQ (and on the free KPQ app for ANY device)
Streaming online: HOCKEYTV 
---
Friday night February 10th
Nanaimo @ Wenatchee Wild
7:05 pm puck drop
Battle of the Bands Nights (presented by Wenatchee Valley College)
Town Toyota Center - Wenatchee, WA
Radio: Newsradio 560 KPQ (and on the free KPQ app for ANY device)
Streaming online: HOCKEYTV 
---
Saturday night February 4th
Coquitlam @ Wenatchee Wild
6:05pm puck drop
Ladies Night & LED Flashlight giveaway
Town Toyota Center - Wenatchee, WA
Radio: Newsradio 560 KPQ (and on the free KPQ app for ANY device)
Streaming online: HOCKEYTV 
---
More From NewsRadio 560 KPQ