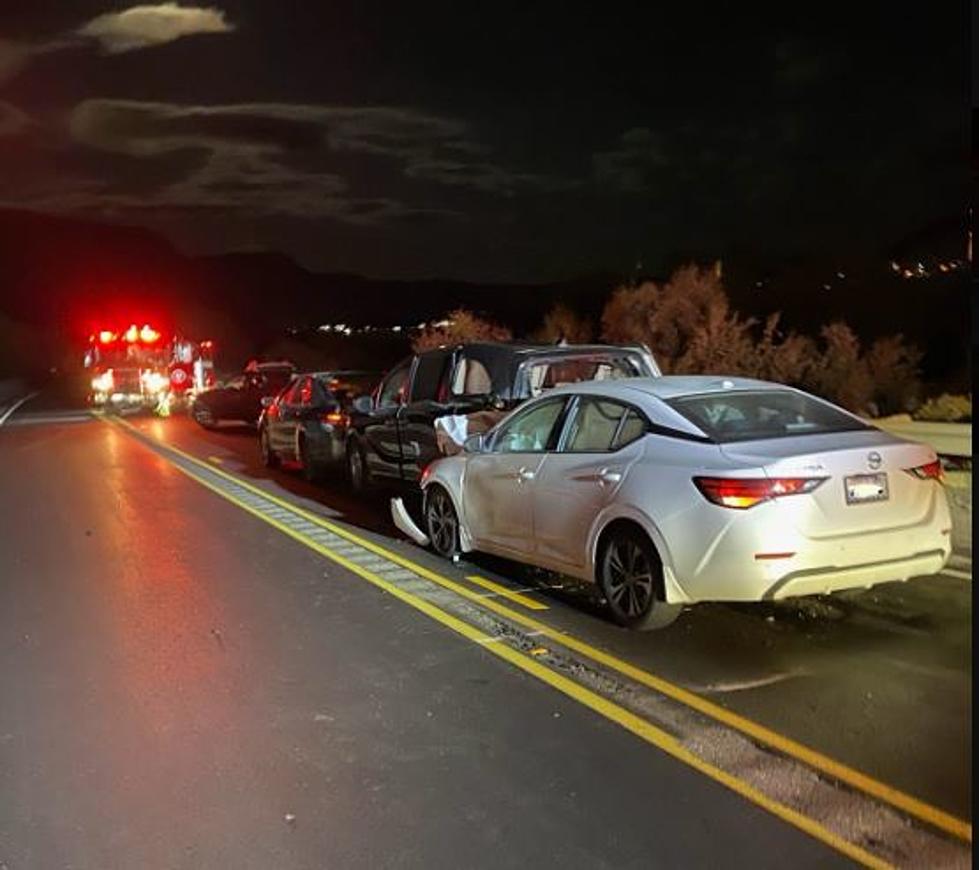 3rd Crash In Week At SR 28 Construction Zones Near E Wenatchee
SR 28 crash near East Wenatchee - Image from Washington State Patrol 9-27-23
Distracted driving is suspected in the third multi-vehicle crash in a week in construction zones between East Wenatchee and Rock Island. 
A 2021 Nissan Sentra driven by 19-year-old Lilian Pena of Quincy was eastbound on SR 28 at about 8:30pm Wednesday when she rear-ended a 2018 Honda Odyssey, which triggered a chain reaction crash involving two more vehicles up front. 
Pena and three other people in the crash were taken to Confluence Health Hospital Central Campus with injuries. 
Pena was ticketed for distracted driving. 
The three other people injured in the crash included an unnamed 29-year-old woman from Quincy, who was a passenger on the Odyssey. Also injured were the driver and a passenger in the car the Odyssey hit, a 2007 Toyota Camry.  They were 35-year-old Ricky Padron of Moses Lake, the driver and 34-year-old Cheyanna Padron of Moses Lake, a passenger. 
There were two other crashes in nearby SR 28 construction zones in the past week. 
A five-vehicle chain reaction crash took place Tuesday night in a suspected DUI case that injured two people. 
And a third crash last Thursday also involved a person suspected of being impaired. 
In last Thursday night's crash, troopers say an eastbound SUV driven by 28-year-old Aimee Lopez of Waterville attempted to pass three vehicles stopped for construction. 
She sideswiped one of the stopped vehicles and then veered left and hit an oncoming westbound semi-truck. 
Lopez was injured and later arrested on suspected DUI. 
Tuesday night's crash involved another suspected DUI when troopers say a pickup truck driven by 42-year-old Willian Freeze of Naches failed to slow for construction and rear ended a car that triggered a five-vehicle crash reaction crash. 
Freeze and an East Wenatchee man driving the car in front of him were injured in the crash. 
More From NewsRadio 560 KPQ