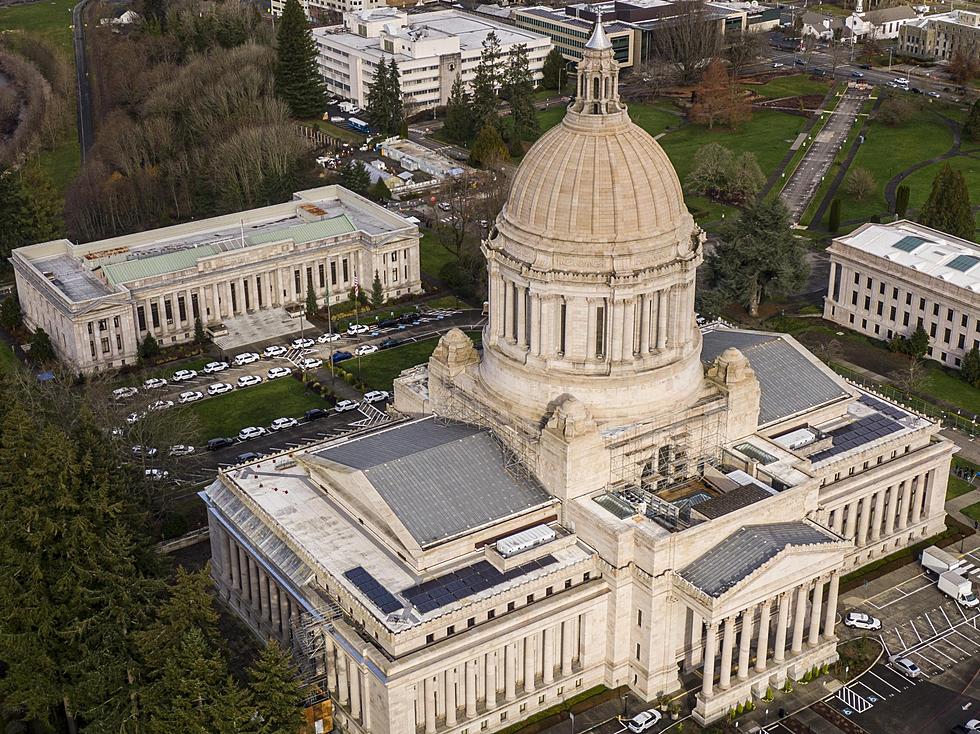 Wenatchee Mayor on WA House Vote To Ban Single Family Zoning
Washington State Capitol, Olympia, WA/ Getty Images
The Washington state House of Representatives ha passed a bill that means duplexes or four-plexes would be allowed in almost every residential neighborhood in the state and could mean local cities could no longer restrict local zoning calling for only single-family homes.
The Seattle Times reports bill (HB 1110) passed overwhelmingly on a bipartisan 75-21 vote.
The goal of the bill's sponsors is to increase housing supply and is considered critical to easing the housing crisis that has sent home prices soaring and contributed to homelessness throughout Washington.
Under HB 1110, cities like Wenatchee with populations between 25,000 and 75,000, duplexes would be allowed in all residential areas.
On KPQ's Agenda Program, Wenatchee Mayor Frank Kuntz discussed his thoughts on the impacts to Wenatchee.  The Mayor says he does not see much of a problem for Wenatchee with the proposed legislation as crafted so far estimating there are perhaps no more than 800 single family lots remaining open in Wenatchee.
"And so I look at this and say, what's the big effect on us? Probably not a lot."
Kuntz looks at the regional concern; what if one or two cities agree voluntarily to adopt these types of zoning changes but others don't.  "So then where does the share of affordable housing end up? Where do the people who work in hospitality end up living?  Well, they all would probably live in Wenatchee and quite frankly, that's not fair" Kuntz surmises if the affordable housing zoning requirements are not applicable everywhere.  He says the city of Wenatchee has already adopted zoning changes close to HB1110.
"We all have to have our share of workforce housing and single family housing. And you just can't say well, I don't want it in my city because that's the way it's been for 100 years. So we all have to work on this together."

--Mayor Dan Kuntz
Kuntz points out Wenatchee now allows construction on a minimum lot size of 3,500 square feet, up from 7,000. "So we've done a lot of things to try to accommodate the housing shortage, smaller lots,  more people, we're going to have to get denser in our community if we're going to grow at all. So I think this is more about some of those other communities who have said not in my neighborhood and I'm not going to be not going to participate in workforce housing. And I think this is a shot mostly at those communities."
In Wenatchee, zoning already exists in many residential areas to permit a duplex or a four-plex behind the house if there's enough room. Design standards require it to look like the neighborhood and fit in with the houses around it.
Wenatchee and East Wenatchee have partnered on a program with up to 15 pre-approved design plans for ADU's or accessory dwelling units that will save property owners on fees if they fit on a property.
The ADU's can be used as a rental property or as a dwelling for a family member.  "We are trying to accommodate infill,  trying to make sure that we have only so much land in our city, and it's not gonna go very much further.  And so now we just have to be really careful about making sure what we do inside the city limits is what's important."
Opponents argue that zoning decisions should be local, and bill will have little effect on the affordable housing crisis.
Department of Commerce estimates show Washington needs to build an additional 1 million homes to keep pace with population growth in the next 25 years.
LOOK: Here is the richest town in each state
Just saying the names of these towns immediately conjures up images of grand mansions, luxury cars, and ritzy restaurants. Read on to see which town in your home state took the title of the richest location and which place had the highest median income in the country. Who knows—your hometown might even be on this list.
More From NewsRadio 560 KPQ