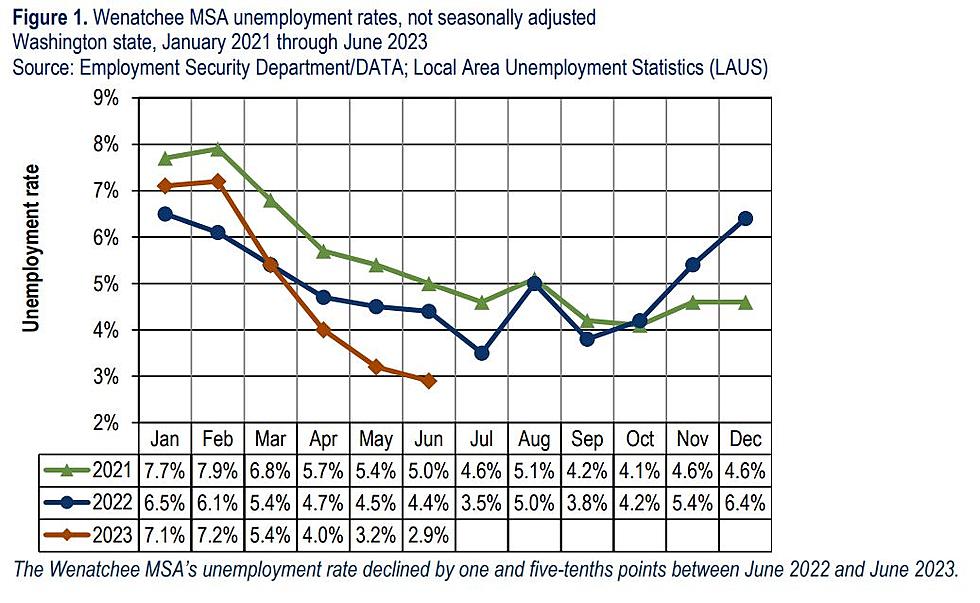 Wenatchee Sees Yet Another Dip in Unemployment Rate and Labor Pool
Source: Wenatchee MSA LAS
The Wenatchee Valley economic report for June details yet another drop in the regional unemployment rate, along with a decreasing labor pool.
The unemployment rate for June was at 2.9%, the lowest rating for June ever recorded since 1990.
The unemployment rate has been at a steady decline for the last few months.
The local non-farm market grew between April 2021 and March 2023 before shrinking from April through June 2023. 
Last month, non-farm employment attained 400 fewer jobs than the 49,000 jobs from June 2022, a -0.8 percent decrease.
The local labor force grew between July 2022 through May 2023, before slowing down in June 2023. 
There were 1,684 fewer residents within this region's labor force this June compared to June 2022, a -2.4 percent downturn. 
There were also 1,108 fewer residents out of work this June, with only 1,929 unemployed residents, versus last year with 3,037 unemployed residents, a -36.5 percent decrease.
There were 3,500 construction jobs within the local labor pool. Job growth in this area has stagnated.
During that time, the Pacific Appraisal Associates shared that they had 88 fewer closed sales during the first half of 2023 compared to the year prior.
Between June of 2022 and 2023, active listings jumped from 134 listings to 157 listings. 
Home prices declined by -4.9 percent, going from an average $502,000 to $477,450 between that time frame.
More From NewsRadio 560 KPQ