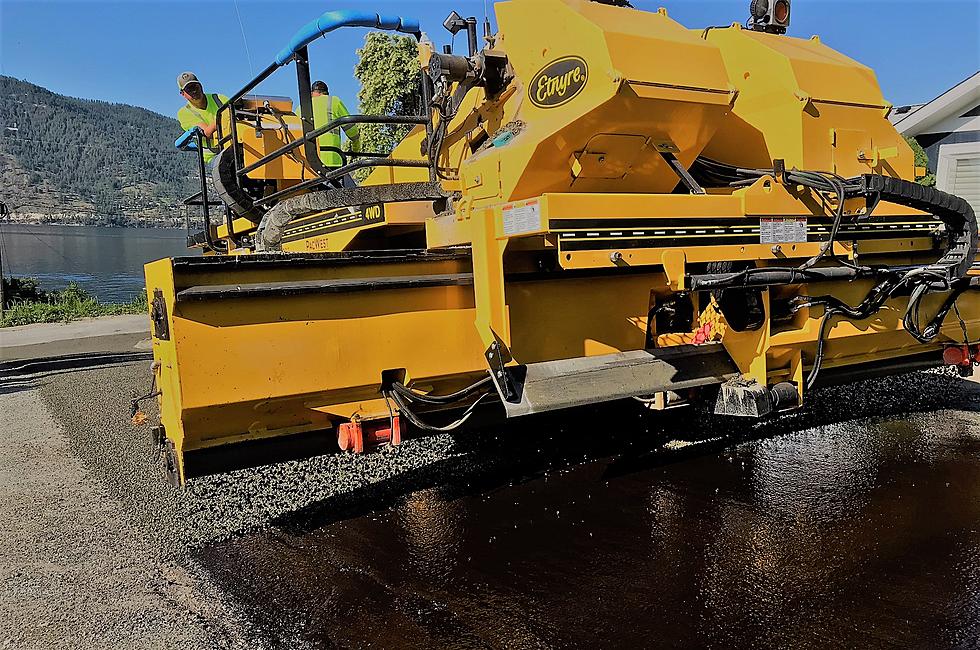 After Chip Sealing, Chelan County Crews To Perform Skip Patching
Chip sealing construction image from Chelan County
Chelan County road crews are now moving on to touchup work after finishing a busy schedule of chip sealing this summer. 
They'll be performing "skip patching" road repairs starting next week. 
Chelan County spokesperson Jill FitzSimmons says skip patching is similar to chip sealing but takes place on a much smaller scale. 
"When we do the skip patching, we will have flaggers out there as well, but that's a pretty fast operation that doesn't take up much time." 
Skip patching involves putting oil and rock down on a much smaller area of a distressed patch on a roadway that is not scheduled for chip sealing in the next year.  
It's a way to keep water out of a distressed section of the road and prevent further deterioration. 
Chip sealing itself is a form of road preservation where cracks in the roadway are sealed before preparation work is performed.  
The actual chip sealing involves applying a coat of liquid asphalt to the road, which is topped with gravel. 
FitzSimmons says crews will be skip patching near Leavenworth and Cashmere next week. 
"So, the Leavenworth district are all those unincorporated areas around Leavenworth, as well as Peshastin, Plain, Lake Wenatchee," Fitzsimmons said. "And Cashmere is unincorporated areas around the Cashmere city limits. And then we've got Monitor, Dryden, those types of places." 
FitzSimmons says skip patching will likely continue the following week in unincorporated areas near Wenatchee, Entiat and Chelan. 
Once skip patching is done, Chelan County crews will move on to pre-level work, which is the process of getting scheduled roads ready for chip sealing next summer. 
Pre-level work will require more time and require crews to block portions of roadway for a longer period of time than skip patching. 
More From NewsRadio 560 KPQ