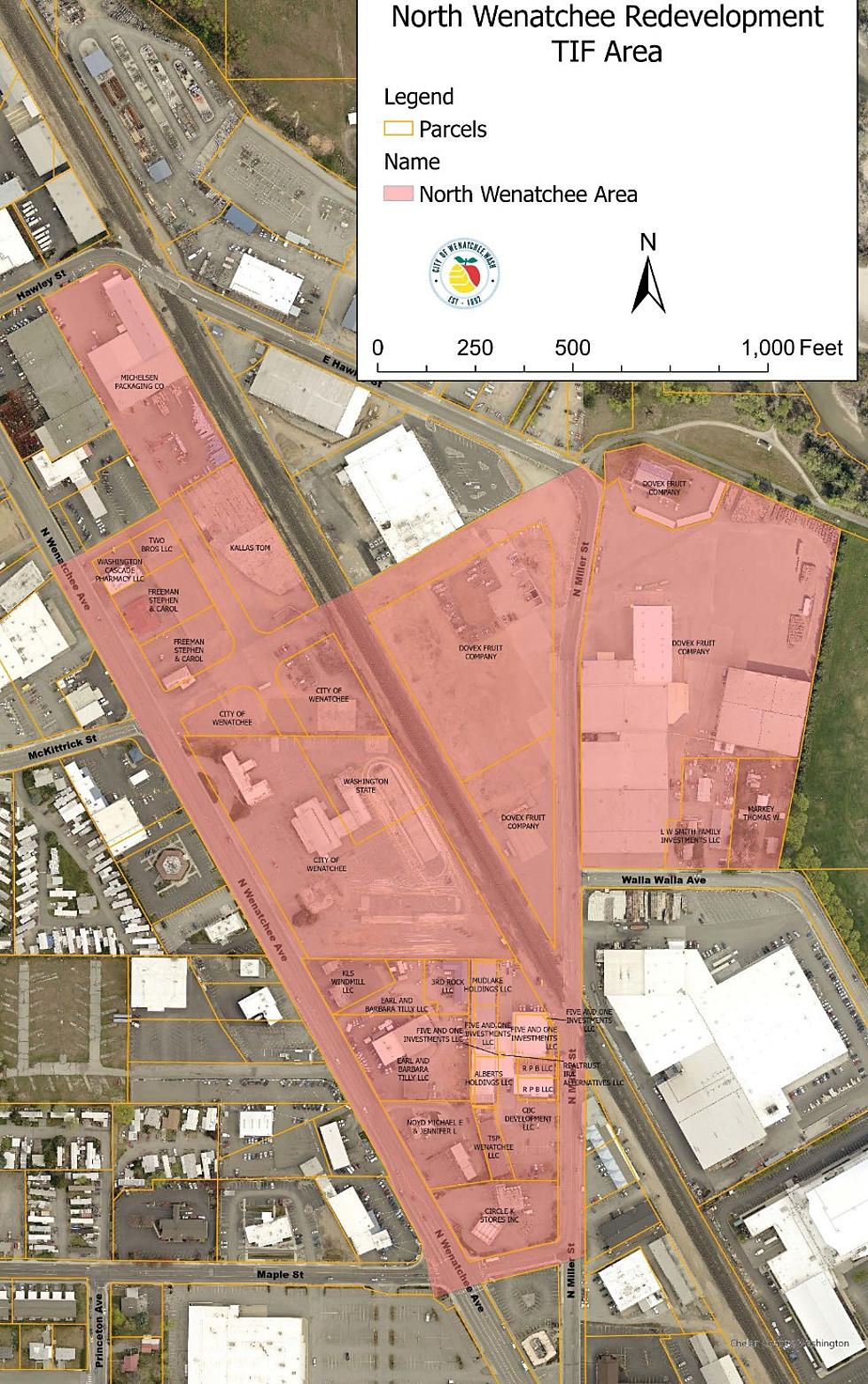 City Council Approves North Wenatchee TIF District
Source: City of Wenatchee. North Wenatchee Redevelopment TIF area.
The North Wenatchee Tax Increment Financing district is now a reality after approval from the city Council Thursday night.
The district encompasses the North Wenatchee redevelopment area, which was damaged from the 2015 Sleepy Hollow fire and includes buildings purchased by the city.
Executive Services Director Laura Gloria says the city's investment in road projects will spur business taxes, which will increase property taxes.
"Instead of that increase of property values going back to the taxing districts, or to the taxing agencies like the city, the county, the port, that increment we get as a city back into that bucket," said Gloria. "But it's in essence paying back the infrastructure that we've invested in."
The Tax Increment Finance, also known as TIF district, will sunset after 25 years, or even sooner if the city recovers all the money it initially invested.
The city plans to use the revenue from increasing property taxes within that district and funnel it towards neighboring public infrastructure projects.
Gloria says the city's investment in road projects and infrastructure is the big difference maker in the plan.
"Absent that investment in infrastructure that we're doing through infra(structure) and through all of the staff time and the capacity that it's taken for the time to apply for those grants, to manage, to administer, absent that effort, there wouldn't be an increase in values," said Gloria. "So, nobody would be getting this money otherwise, if there wasn't this investment already."
The city's roads and infrastructure investment includes the McKittrick/Columbia "Signature Street" project, the massive Confluence Parkway project, and the North Wenatchee "Boulevard Gateway" project
The Wenatchee TIF District was made possible by the state legislature, which in 2021 passed the "TIF Act," allowing local governments to use tax increment financing of public improvements within an area in order to fund private economic development projects.
The location for the new district is not finalized, but is set to be located north of Wenatchee's downtown sector and west of the Columbia River in what is dubbed as the North Wenatchee Redevelopment Area.
This district also includes parcels on both sides of North Wenatchee Avenue, with Hawley Street to the north and Maple Street to the south, with eastern portions bordered by recreational areas to the north and east, and Walla Walla Avenue to the south.
The city council voted unanimously to establish the TIF District Thursday night.
More From NewsRadio 560 KPQ