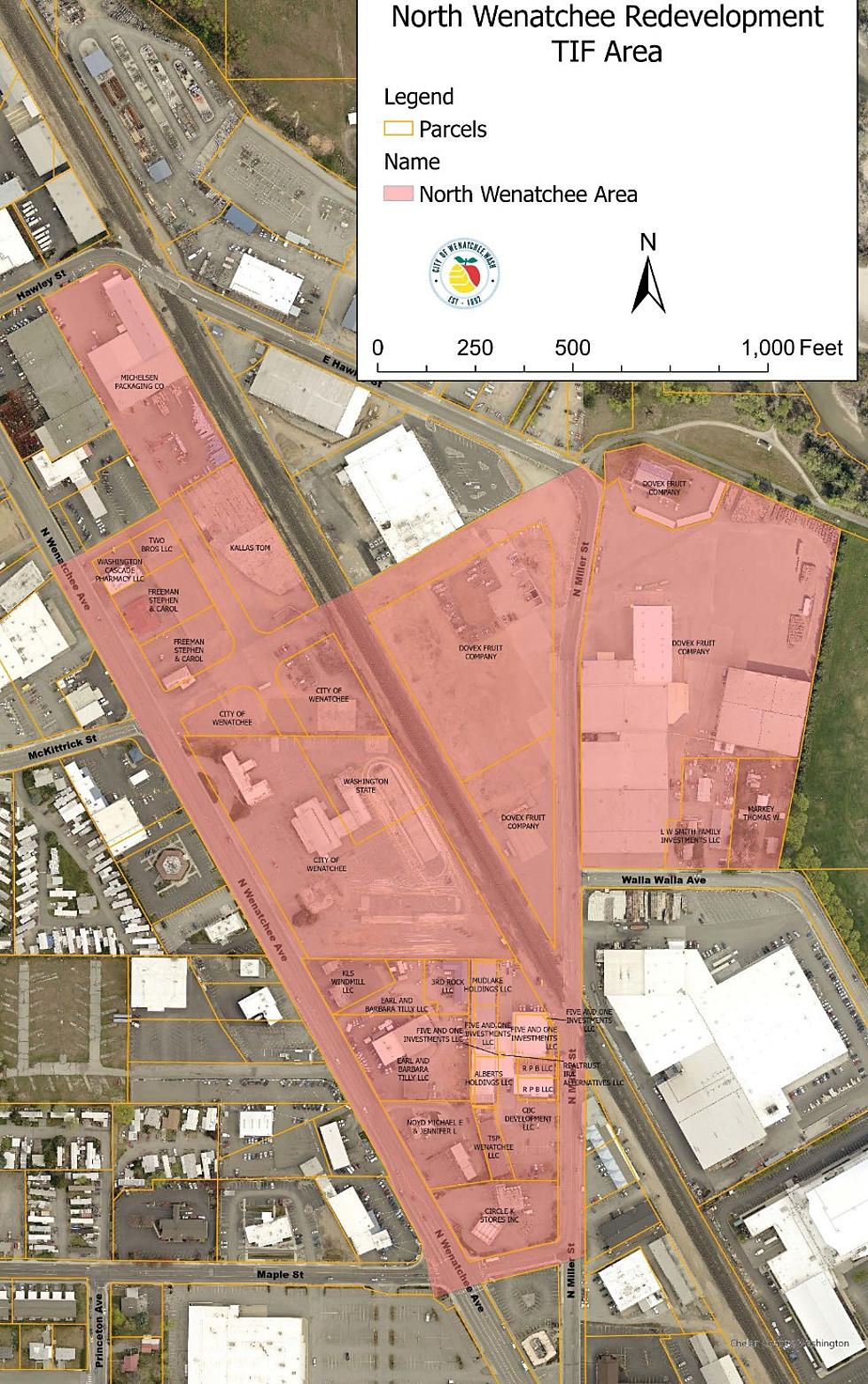 City of Wenatchee to Vote on Boundaries for Tax Increment Financing District in North Wenatchee
Source: City of Wenatchee. North Wenatchee Redevelopment TIF area.
The City of Wenatchee will vote on setting boundaries for their Tax Increment Financing (TIF) district in north Wenatchee, in order to finance their capital projects within that area.
The city will be voting on the boundaries of this TIF area during their next council meeting on Feb. 23.
During the 2021 legislative session, the House accepted Engrossed Substitute HB 1189, or the "TIF Act," allowing local governments to use tax increment financing of public improvements within an area in order to fund private economic development projects.
Essentially, a TIF district would use revenue from increasing property taxes within that district and funnel it towards neighboring public infrastructure projects.
Discussion for this TIF district began back in 2016, when the City of Wenatchee received an Economic Redevelopment Feasibility Study and the Focused Subarea Plan for North Wenatchee Avenue, to focus on a redevelopment strategy for the damaged/vacant parcels that were impacted by the Sleepy Hollow Fire in 2015.
The proposed location for this new district would be located north of Wenatchee's downtown sector and west of the Columbia River in what is dubbed as the North Wenatchee Redevelopment Area.
This district also includes parcels on both sides of North Wenatchee Avenue, with Hawley Street to the north and Maple Street to the south, with eastern portions blocked by recreational areas to the north and east, and Walla Walla Avenue to the south.
Projects funded within this district include the McKittrick/Columbia "Signature Street" project, the Confluence Parkway project, and the North Wenatchee "Boulevard Gateway" project.
"Currently, we do have a deficit in the Confluence Parkway project when we accepted the federal INFRA project money from the INFRA program," Executive Services Director Laura Gloria explained. "We accepted it with a $10 million gap anticipating that we would be able to apply for other grants and other programs to be able to fill that gap, so this could potentially be that."
Gloria says the potential increase in property taxes are negligible compared to the benefits of improving public infrastructure within the area, along with future development within those parcels that the city owns.
"You might see that like when you buy a house and if your neighborhood continues to build newer things, or more amenities, then your property taxes go up because your value is going up," Gloria explained.
The city is expected to bring in approximately $4,465,294 annually through property tax revenue within this TIF district, based on new construction projects that are estimated to bring in a $50 million increase in value.
This figure could change depending on future market values.
You can learn more about the city's Economic Redevelopment Feasibility Study and the city's public infrastructure projects here.
LOOK: This is where homes are selling the fastest right now
Stacker
compiled a list of the metros where houses are selling the fastest, according to data from Redfin.
More From NewsRadio 560 KPQ