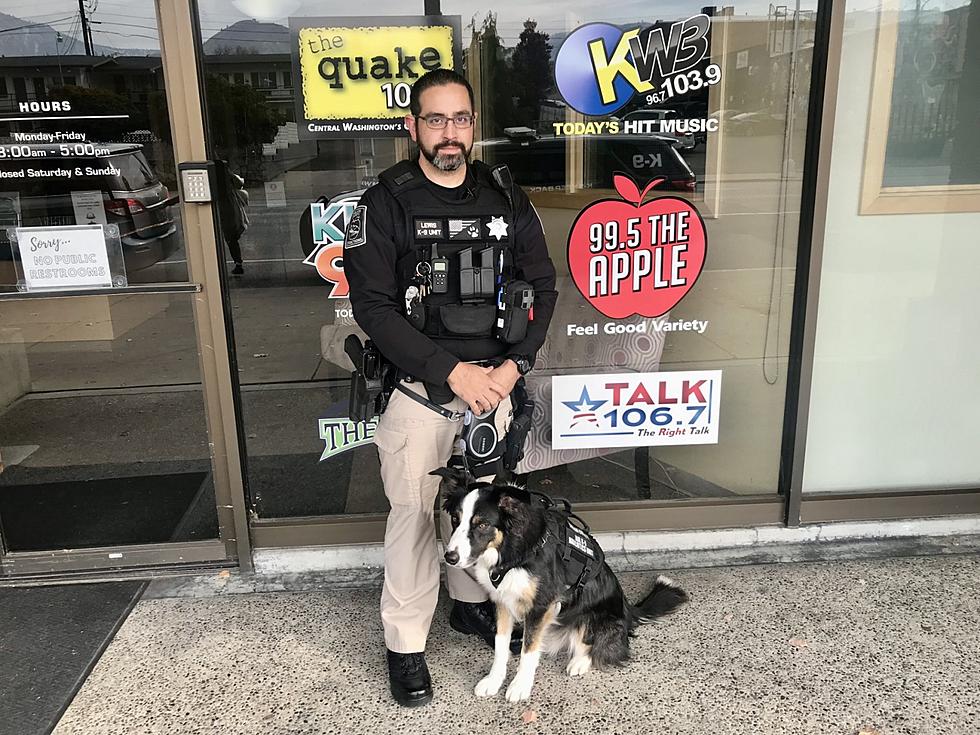 Gambit Pays Off With Drug Finds in Chelan County Jail
K9 Gambit and Corrections Deputy Jacob Lewis/ KPQ
Gambit is the new drug detection K9 officer on duty at Chelan County Regional Jail.  His handler, Corrections Deputy Jacob Lewis is used to being second fiddle and jokes K9 handlers don't take offense easily and tend to get the nickname leash holders in their line of work.
"So typically in public, it's all about the dog so we're used to it" Lewis happily admits.
His first partner K9 Kait was a real celebrity in the Wenatchee Valley making numerous public appearances at schools and community events until her sudden illness and  untimely death earlier this year.
After Lewis noticed Kait wasn't herself and her liver disease was diagnosed, in early 2023, he laid plans to find her successor if Kait's treatment prevented her return to duty.
Lewis started discussions with the Department of Corrections where Kait was trained to detect narcotics and became one of just a couple of dogs deployed in a municipal jail setting at Chelan County Regional.    The plan was for Gambit to train alongside Kait and takeover the drug detection duties upon his certification. Kait would enjoy her retirement from K9 work and live with the Lewis' as a family pet along with Gambit wen he was off duty.
Gambit was visiting the Lewis household the weekend before Kait's health took a turn for the worse and she died suddenly.  Lewis says the pair played in the family's backyard and got along very well.
"I really feel like Kait felt like you're in good hands. I think he'll be a good partner and she gave her blessing"
Gambit's own story is an amazing one that seemed destined to lead him to Lewis and the Chelan County Regional Jail.
Lewis says Gambit's owner noticed the three year old Border Collie's high drive and tried to donate him to the DOC program but they did not have room at the time for another enrollee.  Gambit was rehomed instead into what turned out to be an abusive situation and was left in a kennel with no food or water for three days in the middle of summer.  Gambit nearly died.
The original owner learned of his circumstances and rescued him from the abusive home setting and got him the veterinary care he needed.
An opening in the DOC training program also opened up and Gambit began learning how to detect narcotics and drug contraband.
This was about the time Lewis had opened a conversation with DOC about a succession plan for K9 Kait and learned about Gambit's story and his given name.
Lewis, a self described nerd and Marvel comic book fan was immediately drawn to Gambit's name which is the same as a character in the Marvel X men series so the pair are a perfect fit.
Gambit is paying off in his first month since receiving certification.  In October, Lewis says Gambit recorded six drug finds at the CCRJ including fentanyl.  He is certified on the same six odors as K9 Kait; methamphetamines, heroin, cocaine, marijuana, buprenorphine which is also known as suboxone and fentanyl.
While K9 Kait was ill, Lewis says the inmate population took advantage of her absence and an out-of-service mail scanner to smuggle in more drugs.  Gambit's highly trained nose is on the job now and Lewis says the jail population fear the K9 detection dog's ability to detect contraband far more than the mail scanner or body cavity scanner measures that form a three-pronged attack to combat drug smuggling.
New York City Robotic Police Dogs (DigiDogs)
More From NewsRadio 560 KPQ