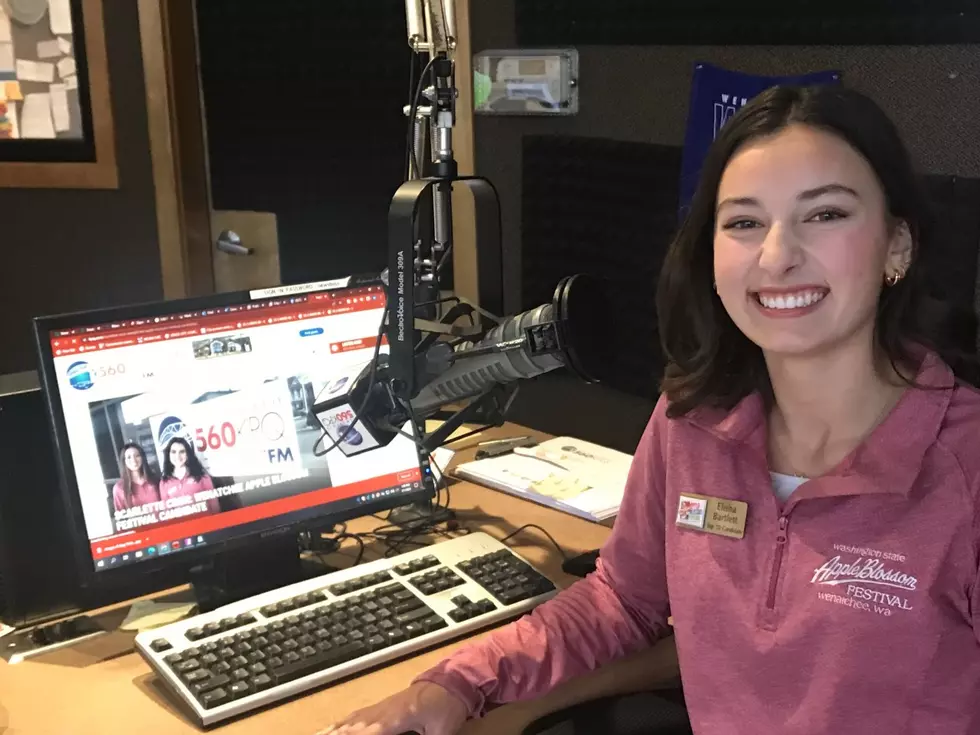 Elisha Bartlett: Washington Apple Blossom Royalty Candidate
Elisha Bartlett credit; KPQ Radio
This is a series of interviews with the Top 10 Candidates for the Washington State Apple Blossom Festival Royal Court.  The Apple Blossom Queen and two Princesses will be crowned Feb. 11th at the Cashmere Valley Bank Royalty Selection Pageant at the Numerica Performing Arts Center. Get Tickets here
Meet Top 10 Candidate Elisha Bartlett
Elisha Bartlett is a member of National Honor Society and attends Eastmont High School.  Singing is a passion since 5th grade and she is president of the choir club and performs with Eastmont's vocal jazz and chamber choirs.  Each group has it's own discipline "They're so different, chamber is a bigger group so we all have a lot of section parts to blend our sound.  In jazz, it is much more individual, it's a little more fun, you get some solos but it's hard to compare the two".  Bartlett said her favorite choir experience was a trip to Central Washington University to see a production of Hamilton and a chance to perform with the CWU choir 'that was such a great trip with great bonding for the choir students".
Elisha says her religious faith is an important part of her life.  She has chosen to take on youth worship leadership roles in her church and is a counselor at Camas Meadows Bible Camp.  She says her beliefs help her in other aspects of life "it gives me the ability to not try to rely on my own ability but to put that trust in a higher power"
While she is not sure if she will enter the ministry but says she would love to be a worship leader in the future but is also interested in studying psychology and worship arts and ministry at California Baptist University Bartlett said "Both of my parents are mental health counselors and so I would consider being a family counselor like they are".
Elisha is an avid sedum collector.  Yes, I had to look it up but she explained "so basically I'm a plant mom, I like to tend to them and water them.  Sedum is an indoor plant, a succulent, they require little water, little maintenance but they're so cute.  I have a ton of those in my room"
Bartlett grew up with the Harry Potter books and films and is a fan of the actress Emma Watson who played the character Hermione Granger.  Elisha said  "At first I thought her character  was fun and sassy (as Hermione) but as she has grown older and I have gotten older, she has appeared in more impactful movies and has been able to use her platform really well.  She is an ambassador for UNICEF and so I just look up to the way that she has used her fane in a way that impacts others"
Elisha loves some of the favorite pastimes in the Wenatchee Valley like skiing Mission Ridge, walking the Apple Capital Loop trail with her dog and enjoying the vibe at Pybus Public Market "we like to go and taste the olives at D'Olivo, and McGregor's Honey and Cafe Columbia for coffee but even just walking around and shopping, it's just a fun environment".
More From NewsRadio 560 KPQ