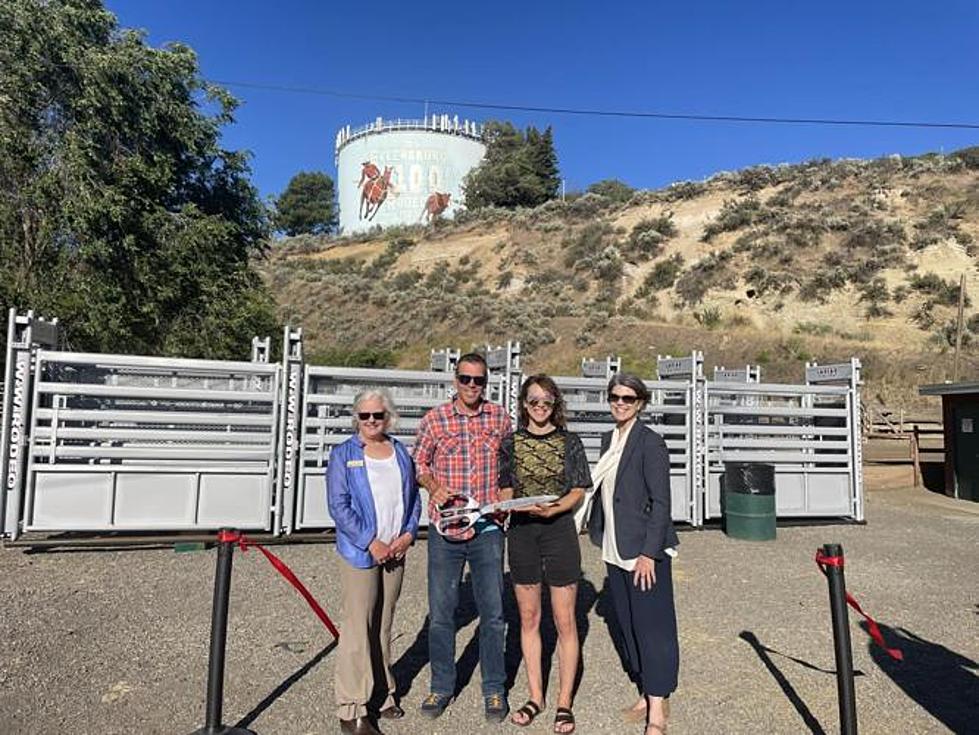 Wenatchee Artists Honored For Mural In Ellensburg
Wenatchee artists Marlin Peterson and Heather Dappen (pictured in the center from left to right) - Image from Kittitas County Chamber of Commerce
Wenatchee artists are being celebrated in Ellensburg for their work on a mural.
They were honored Monday for their installation of a mural honoring the 100th Anniversary of the Ellensburg Rodeo.
Wenatchee artists Heather Dappen and Marlin Peterson spoke at a ribbon cutting ceremony.
Their mural (pictured) sits on the side of the Craig's Hill Water Reservoir in Ellensburg.
Dappen and Peterson, along with Wenatchee artist Ellen Bruex comprise the group "The Rural Mural Plural."
After submitting a concept design, the group was selected to commemorate the centennial of the Ellensburg Rodeo.
They use bright and vibrant colors with many of their projects, but Peterson said they had to come up with something that suits the environment of Ellensburg and the popular rodeo.
"The horse and rider and the calf and lariat, we wanted a high action scene. And Heather was more in charge of doing the typography and we did a lot of different mockups, just trying to figure out what text was necessary." Peterson said
To the job right, Peterson said they've reserved some lifts to reach the top of the tower.
"I've never been on a lift that gets up to 65 feet before. It's always been a life goal for me to get larger and larger walls and bigger and bigger lifts. So, this really scratches the itch."
The mural is now complete, well ahead of the rodeo on Labor Day Weekend.
"The Rural Mural Plural" have also completed several projects around the Wenatchee Valley including paintings on the sides of the North Central Regional Library and YMCA.
Peterson and Bruex are art instructors at Wenatchee Valley College, while Dappen is a former WVC student and specializes in typography and graphic design. They have received significant grants for their creative work, including the Icicle Creek Grant and Woods Family Music and Arts Grant.
Bruex was not part of the Monday ceremony in Ellensburg that was staged by the city government and the Ellensburg Rodeo.
More From NewsRadio 560 KPQ