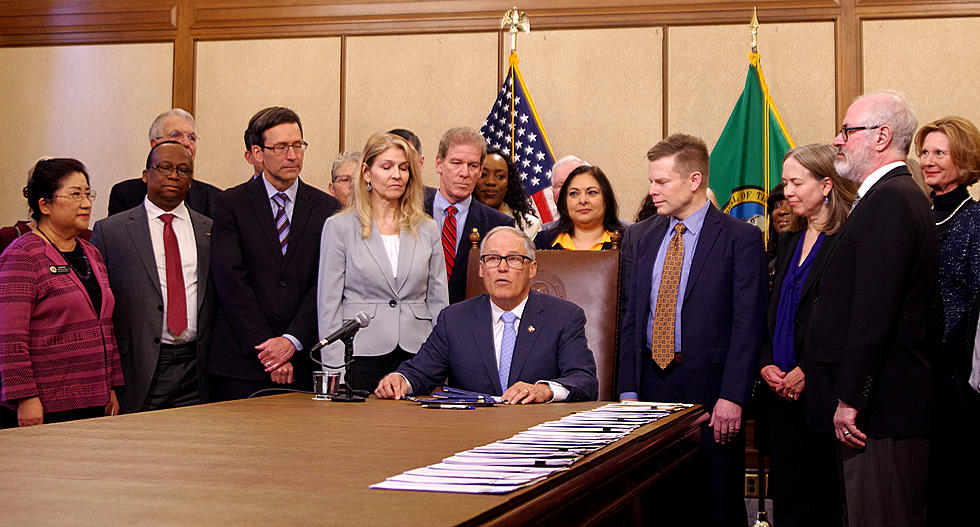 Death Penalty Officially Off The Books In Washington
Image of Gov. Inslee signing death penalty bill from Attorney General Bob Ferguson's office
Washington state no longer has a death penalty under a bill signed into law by Governor Jay Inslee.
Inslee issued a moratorium on the death penalty in 2014 and Attorney General has proposed removing the the language from the books since 2017.
"Our rational for that decision was confirmed by the Supreme Court decision in 2018 when they invalidated the death penalty statute," said Inslee.
Inslee signed the bill, which is getting national attention, Thursday.
The last time Washington executed an inmate was in 2010.
All six state lawmakers representing Chelan and Douglas counties voter against the bill's passage.
The two Senators from the 12th and 7th districts - Brad Hawkins of East Wenatchee and Shelly Short of Addy - and the four Representatives - Mike Steele of Chelan and Keith Goehner Dryden of the 12th district, along with Jacquelin Maycumber of Republic and Joel Kretz of Wauconda from the 7th district - are all Republicans.
The law passed on party lines, with only one Republican voting with the entire Democratic majority to pass the bill in the House.
The new law also stops judges from ordering a defendant to be sterilized and ends requirements that public employees sign anti-communist pledges.
The death penalty was among 30 Washington statutes deemed unconstitutional in a recent report, according to a release from Ferguson's office.
The bill contained 40 laws removed in a "housekeeping" effort to conform with state Supreme Court decisions finding them unconstitutional.
More From NewsRadio 560 KPQ