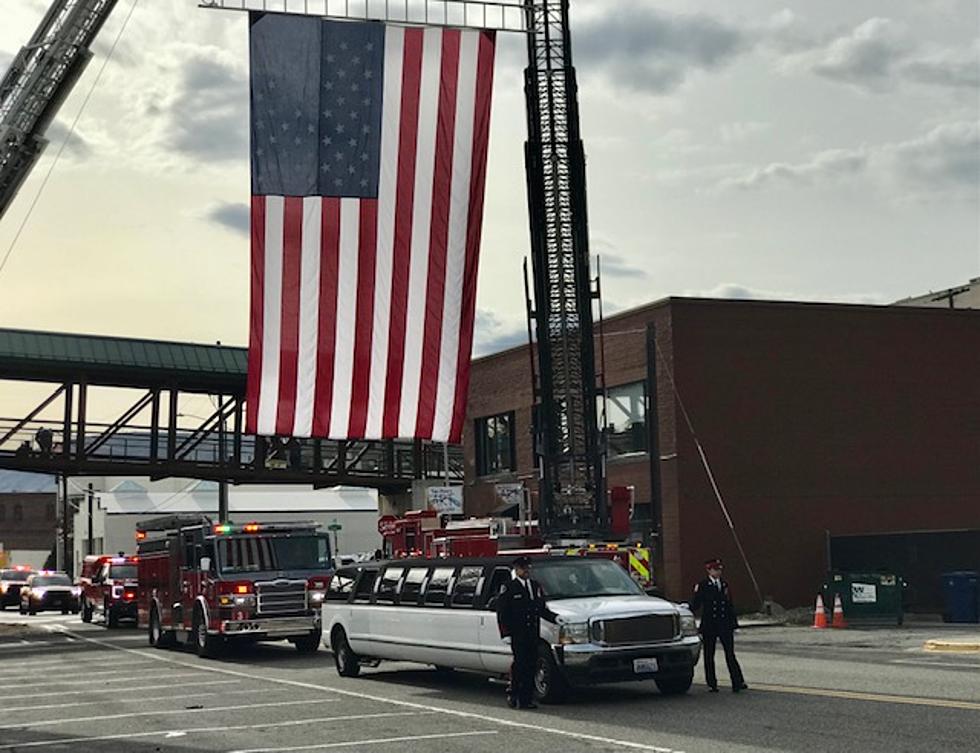 Ron Roy Devoted 50 Years to the Wenatchee Valley Fire Service
The family of Division Chief Ron Roy leads the procession Saturday to Memorial Service in Wenatchee/image 560KPQ
A 50 year veteran of the fire service in the Wenatchee Valley was remembered for his leadership, dedication, kindness  and advocacy for volunteer firefighters.
Wenatchee Valley Fire Division Chief Ron Roy passed away in July at 68,  after battling leukemia.  Roy received full fire service honors at Wenatchee Convention Center on Saturday.
Fire apparatus from around the state formed a procession down Wenatchee Avenue to the Convention Center passing underneath a U.S. flag.
The noon time ceremony concluded with the chiming of a fire bell symbolizing the loss of a firefighter and RiverCom's end of watch radio message
In between, Roy's career was celebrated by those who knew him best from the many areas of the fire service he impacted.
Wenatchee Valley Fire Chief Brian Brett said of Roy "He went to all these conferences, national, state, regional or local and he often funded it himself.  The department often didn't fund these for him to attend.  He just went and did it on his own.  He always spoke about what was going on so we had an advocate at the national, state and regional level right here at home"
Roy was known for two mottos;  "All you have to do is treat people right" and a signature line on his email; "Doing it free since '73" in reference to his volunteer service that lasted 50 years.
In addition to receiving mementos of Roy's fire service career including his dress uniform in a framed display case, the family was presented with a proclamation from Gov. Inslee honoring Roy's service.
Another symbolic gesture of respect given to the family as part of the Full Honors were three U.S. flags recently flown for 50 minutes at local Wenatchee Valley Fire stations.  The 50 minutes were a tribute to the 50 years Roy served with Chelan County Fire District #1 and Douglas County Fire District #2 (now combined as Wenatchee Valley Fire Department)
A brick with Roy's name, honoring his service will be placed at the National Volunteer Firefighters Memorial.   Roy had served with the National Volunteer Fire Council since 2004 where he advocated for volunteer firefighter safety.  Roy also volunteered with the Washington State Firefighters Association and the State Fire Marshall's Office.
Ron Roy was a three-time firefighter of the year and was voted Inspirational Firefighter of the year an astounding seven times.
The Roy family suggest donations in Ron Roy's memory may be made to:
Firefighter Cancer Support Network (FCSN) at:
htps://firefightercancersupport.org/how-you-can-help/donate/
or by mail at 2600 West Olive Ave., 5th Floor-PMB 608, Burbank, CA 91505
More From NewsRadio 560 KPQ